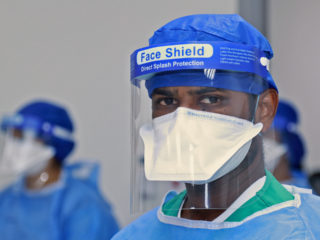 The Nigeria Sovereign Investment Authority (NSIA), in partnership with Global Citizen Nigeria, has unveiled the Nigeria Solidarity Support Fund, to support the Federal Government to tackle the coronavirus pandemic.
According to the group, the Fund seeks to rally support from corporate and private citizens to support the most vulnerable, re-skill and retool a new Nigeria and sustainably tackle the pandemic.
Chairman, Global Citizen Nigeria, Babatunde Folawiyo, speaking during the launch of the Fund, yesterday, said the group hopes to mobilise Nigerians both at home and abroad to support the country, especially in the aftermath of the covid-19 disaster.
He added that the campaign will encourage every Nigerian to play her part in supporting the nation in tackling the pandemic.
Nigeria's Vice President, Prof. Yemi Osinbajo, said the pandemic is an opportunity to reset the critical sectors of the economy.
"It helps us to develop a comprehensive social and critical response. The move to re-engineer and rethink our health system is key; these efforts are commendable.
"While there have been efforts to deepen the federal government's Social Investment Programme (SIP) to cater for the vulnerable in the society. This fund will support the government's SIP efforts and many in the informal sector. We look forward to working with you," he added.
The Minister of Finance, Mrs. Zainab Shamsuna Ahmed, noted that many Nigerians are facing significant challenges now, and such challenges are causing extremely difficult for the government.
"The negative impact continues to grow as it affects both supply and demand. The disruption in supply chains continues to affect the cost of doing business. Frontline-end related spending is our first line of action is to check the spread of the virus for the well being of the people. The NSIA is a credible government agency, and the partnership will help to provide the right vehicle for funds management," she added.
The Managing Director, NSIA, Uche Orji, explained that the pandemic has placed social and economic stress on the country, adding that the long-term approach is targeted at creating a healthcare system that is enduring across the primary, secondary and tertiary health institutions.
"The Fund will help to increase access to primary healthcare, especially in rural areas. The Fund will function alongside other initiatives in order to address the problem. It will be done in coordination with the government and we have created a structure that will ensure the sustainability of the intervention," he said.
On his part, the Vice Chairman, Global Citizen Nigeria, Aigboje Aig-Imoukhuede, said the Fund was being established to facilitate immediate and long term support to effectively sustain Nigeria's response in tackling the pandemic.
Noting that there are other interventions, he insisted that they are still not enough to tackle the pandemic, saying the philosophy of Global Citizen is that not just the rich should stand up, but the strong, healthy and brave can equally help the weak, the sick and others.
The Chairman of the Board, Nigeria Sovereign Investment Authority (NSIA), Jide Zeitlin, said collaborations such as the launch are key to helping mobilise funds as well as support the society, saying: "We are committed to bring good governance to the fund management."